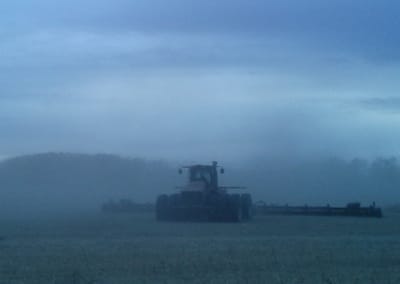 Clubroot-resistant canola is the best tool available to limit disease damage in fields infested with clubroot. However, an effective overall clubroot management strategy has to be top of mind in all years, not just canola years.
As a soil borne disease, clubroot can spread no matter what crop is grown on a field. Any pass with the drill or cultivator, for instance, will pick up and move soil — and, therefore, clubroot spores. Even with a one in four canola rotation, clubroot can be spread all around the farm in the intervening years.
Any brassica weeds, including shepherd's purse and stinkweed, are potential hosts for clubroot. Patches of these weeds in cereal crops can build up clubroot spore loads in the soil. Just one infected root mass will produce billions of spores that can eventually be spread around the farm through tillage and any other process that moves soils. Weeds don't have to reach maturity to provide a bridge. It takes 6 weeks from the point of infection for clubroot to produce mature galls and resting spores.
Zero tillage can prevent soil movement by water and wind, and by the simple fact that tillage tools — which can carry hundreds of pounds of soil — are not moving from field to field. But zero tillage has to be practiced in all years, and equipment sanitation has to be performed in all years, to keep the disease contained.
Top 10 tips from the 2013 International Clubroot Workshop.
From Saskatchewan Ministry of Agriculture: Clint Jurke's webinar with on busting clubroot myths.