Bertha armyworm counts keep rising. Adult moth counts continue to accumulate across the Prairies. Many areas are now at moderate to high risk, and adult numbers will continue to build this week. Adult counts can hint at the potential level of feeding by the larvae — the actual armyworms — starting about two weeks after the first wave of adults showed up in traps. (See the article on larvae scouting in this issue.) Trap counts suggest overall risk for a region. Even in areas deemed low risk by adult counts, isolated areas of heavy larvae feeding can occur. Don't completely let your guard down even if adult trap counts in your area indicate mid to low risk.
Latest Saskatchewan map
Latest Manitoba data
Latest Alberta map
In this video, MAFRI entomology specialist John Gavloski explains how to assess bertha armyworm risk:

Swede midge not worth controlling. Swede midge have been reported in northeast Saskatchewan, in Nipawin-Tisdale regions, where it was reported last year. Western Canada does not have a threshold for Swede midge, and unless they are scouted and sprayed at or before early flower, control may not be effective or justified. Once the eggs are laid inside the flower, the management opportunity is over. Swede midge is a bigger problem for Ontario canola growers. Ontario Ministry of Agriculture and Food produced the following Swede midge Q&A: Swede Midge Q&A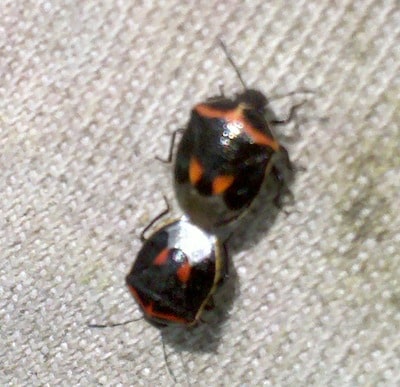 Limited benefit from late cabbage seedpod weevil spray. Once canola approaches late flower, the economic return from a spray against cabbage seedpod weevil is reduced for a couple reasons: 1) Weevils are getting old and will die soon. They are laying fewer eggs than a couple weeks ago. 2) Most of the eggs are already laid inside the pods and protected from insecticide.
Two-stabbed stink bug. If you notice this photogenic bug in your canola, take heart. It looks nasty but is not considered a pest in canola.