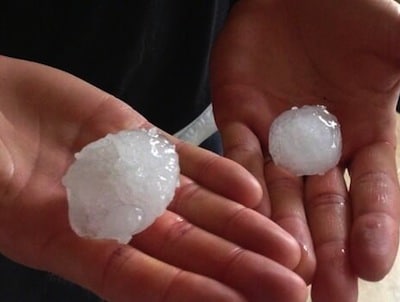 Hail struck a number of areas over the past week, and canola damage ranged from light to total destruction. The photo above shows a couple hailstones collected around Lethbridge this week. Canola has a remarkable capacity to recover from light hail at early flowering — although if the flowering period is extended as a result, the crop may benefit from a second fungicide application.
Sclerotinia stem rot management continues this week. The ideal fungicide timing is 20-30% flowering. Crops most likely to provide a return on investment have had moisture (even average moisture is ample) before and during flowering, a humid canopy, and 30+ bu./ac. yield potential. The window closes for fungicide application at 50% flowering.
The most damaging time for insect feeding is late flowering and through pod fill when canola plants have little capacity to recover. Lygus, diamondback moth and bertha armyworm are the big ones to watch during this period. Adult scouting continues for bertha armyworm. Diamondback larvae are starting to appear in fields at low levels. Lygus numbers are building in some areas, and in rare cases, an application during flowering may be needed to move the crop along.
Lygus and adult cabbage seedpod weevil feeding during the bud stages is one possible reason for missing pods. Growers seeing missing pods on canola stems may be inclined to blame last week's heat, but insects or something else may have been at work before the heatwave. Click here for more reasons for missing pods.
Tweet of the week: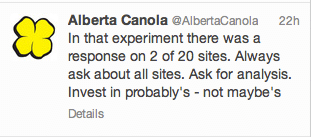 Follow @CanolaWatch and the CCC agronomy team on Twitter.