This is our first attempt at a "Top 10" list. Herbicide tolerant (HT) canola systems have made weed control in canola much easier, but certain weeds still present challenges. These are "decision driver weeds" — weeds that have a limited number of appropriate products or tank mixes that would provide consistent control.  Many of these weeds require integrated weed management across years and throughout the crop rotation.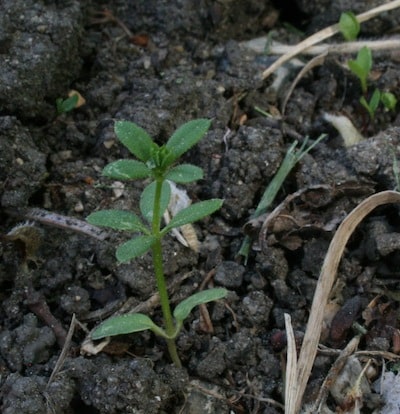 Cleavers. Overwintering cleavers seem to be fairly common this spring, and there is growing concern with cleavers in delivered canola. The half-litre rate (180 grams of active per acre) of pre-seed glyphosate is not likely enough for winter annual cleavers. The one litre (360 gae) rate is better, and if cleavers and other winter annuals are larger, a 1.5-litre (540 gram) rate may be required. The key is to determine weed staging. Dig up a few. Those with large established roots are probably winter annuals or biennials and will need a higher rate. If cleavers and other weeds are small and look like they germinated in the spring, a lower recommended rate may be enough.
Volunteer Canola. Volunteer canola is best controlled during the cereals and pulse years of the rotation. Volunteer canola is a bridge for clubroot, blackleg and insects when not managed in cereals and pulses. Cereals also provide many more options to control volunteer canola before seeding and in crop.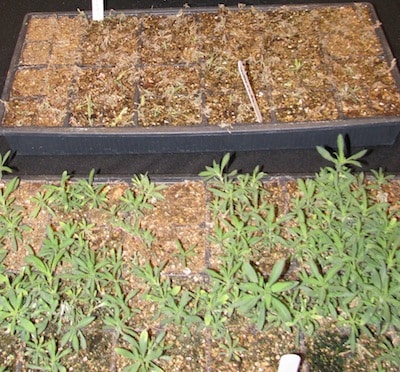 Kochia. Kochia tends to be more common in the southern Prairies. Glyphosate resistant kochia was confirmed in southern Alberta in 2011 and in southwest Saskatchewan in 2012. Growers with glyphosate-resistant kochia can control it ahead of canola using the high rate of CleanStart. Non-Roundup Ready canola varieties also provide options for in-crop control, although kochia is best controlled when very small. Another management option is to return to the application and incorporation of Edge prior to seeding. Tips to control hard-to-wet weeds.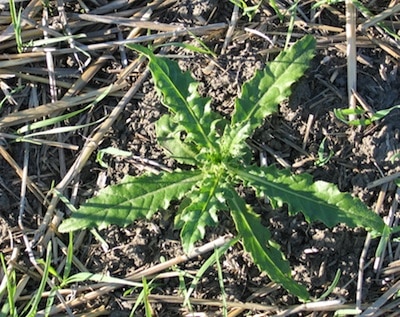 Canada Thistle. Canada thistle is 3 to 4 times more competitive than wild oats. Ten shoots per square metre can cause a 10 bu./ac. yield loss in canola. Get thistles under control in cereals so they're easier to manage in canola.
Late summer or fall applications of glyphosate are typically regarded as twice as effective in managing perennial weeds like Canada thistle, sow thistle, and dandelion. In the fall these weeds are actively moving sugars into their roots for energy storage to survive winter and therefore also move herbicides efficiently into their root systems as well, where newly forming buds for future growth are killed. Control Canada thistle in the fall before high value crops such as canola for the greatest economic benefit.
A pre-harvest application every other year within your crop rotation often keeps these weeds at low pressures. Pre-harvest applications are well suited to northern regions of the Prairies where opportunities for post-harvest applications are squeezed between later harvest of crops and earlier risks of frost damage to the weed leaves. Post-harvest applications work well in southern parts of the Prairies, but applications need to be delayed for four to six weeks after cutting in order to allow enough regrowth to provide an adequate target. Even with healthy regrowth, the effective target area is still much less than in pre-harvest applications. As a result, rates used for post-harvest thistle control with glyphosate need to be 2.5 to 3 times the 360 gai per acre rate used pre-harvest, to supply the same level of glyphosate to the roots of thistles at both timings.
Even with a fall application, spring applications may still be required but in-crop may be enough. Managing patches will go a long way in preventing outbreaks. In canola, check label rates before spraying these weeds. Higher label rates may be required for these perennials.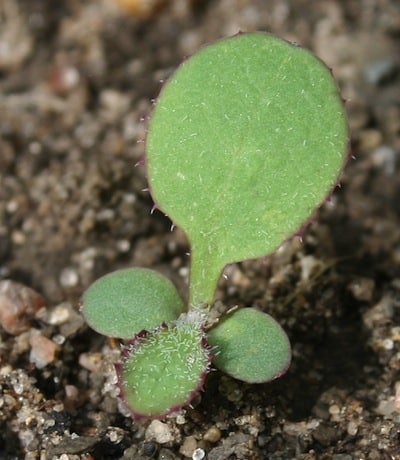 Sow Thistle – perennial and annual. Sow thistle does not usually occur uniformly throughout fields, but where it does, the crop can suffer high yield loss. Perennial sow-thistle is best controlled in the fall. See the message under Canada thistle. Annual sow-thistles may emerge in either fall or spring. Fall germinating individuals may be controlled with the burn-off and spring annuals germinating with the crops will require management using the in-crop herbicide. None of the herbicides registered for use in canola indicate that they are registered for annual sow-thistle control. However, herbicides registered for top-growth control of perennial sow-thistle should give reasonable activity on annual sow-thistles as well. Note that a relatively high proportion of spiny annual sow-thistle populations are reported to be resistant to Group 2 herbicides.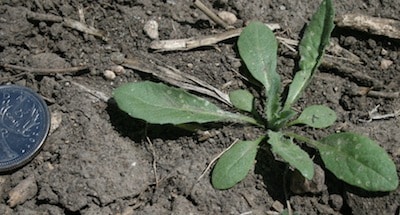 Narrow-leaved hawk's-beard. These are best controlled in the fall or very early spring before they begin to bolt. Mixes of glyphosate and Group 2 mixes (Express, Priority or PrePass) are most effective. Phenoxy herbicides such as 2,4-D or MCPA applied in the fall actually antagonize the activity of glyphosate applications made the following spring. Glyphosate applied alone at 180 gae per acre very early in the spring prior to the beginning of bolting, is very effective in controlling overwintering narrow-leaved hawk's-beard.
Dandelions. Dandelions, like Canada thistle, are strong competitors. These are best controlled in the fall, but very early spring is the next best timing. Research on dandelion control prior to wheat showed that applications made pre-bloom (< 30% bloom) provided the best yield response, even if dandelion was not as effectively controlled as later timings. The best control of dandelion alternated between pre-bloom and full bloom, possibly due to temperature at the pre-bloom application timing in various years for the project.
Wild buckwheat. Wild buckwheat is much harder to control with most herbicides if allowed to advance into the stem elongation phase (> 4 leaf stage).  Two passes may be required in fields with high wild buckwheat counts. Apply each application timing when wild buckwheat is 4 leaf or less. Wild buckwheat can go progress through growth stages quickly, so control when small.
Stinkweed. Stinkweed is fairly easy to control if sprayed in the vegetative stages. If not controlled it grows very quickly and will draw aggressively on resources that would otherwise be available for the crop.
Stork's bill. Stork's-bill is aggressive and can escalate quickly if missed. Two passes are often required when this weed is present. Make every effort to target stork's-bill in cereals.