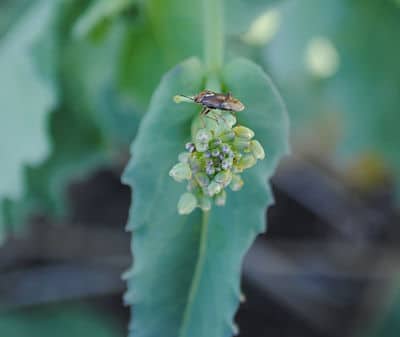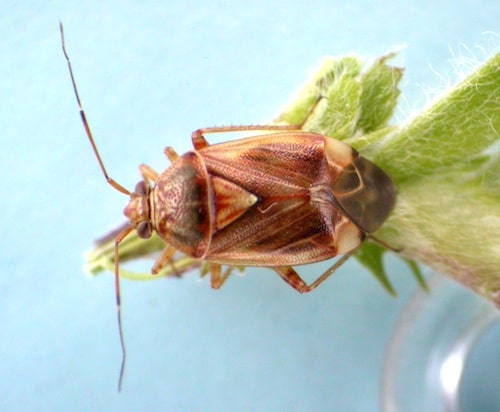 Lygus monitoring has begun and so far the threat seems minimal for most fields. That can change quickly.
Scouting tips:
—When possible, sample when conditions are warm, sunny and not too windy (e.g., temperatures above 15°C).
—Use a standard insect sweep-net with a 38 cm diameter.
—Take 10, 180 degree sweeps through the canopy of the canola.
—Count lygus bug numbers per 10 sweeps.
If the count at the bud stage averages 20 adults per 10 sweeps or higher at 10 locations within the field, and if canola is stressed by drought, then be prepared to keep an eye on this field. If the field fails to flower when expected and it remains dry, then scout again. If the same stand flowers when expected, hold off on the spray for now but keep monitoring it into the vulnerable early pod stage.
Insecticide control at the bud stage is rarely effective or economical even when counts are 15-20 per 10 sweeps. Under good growing conditions, canola can grow through this early damage without any yield loss. And research has shown that in some cases canola can actually yield more if some early bud feeding occurs. This feeding can instigate a response by the plant to produce even more buds.
Lygus control at the bud stage may be warranted if all buds are being damaged and the crop isn't coming into flower. Otherwise hold off on spraying and be ready to take action at the pod stage if necessary.
Spraying now to prevent feeding at the pod stage is not effective. Bugs present now could still be around at the pod stage, but the hatch has just begun and many more could emerge between now and then.
Click here for more on lygus control at the late flower and early pod stages, including threshold tables for these stages. Thresholds have not been established for lygus feeding at the bud stage.