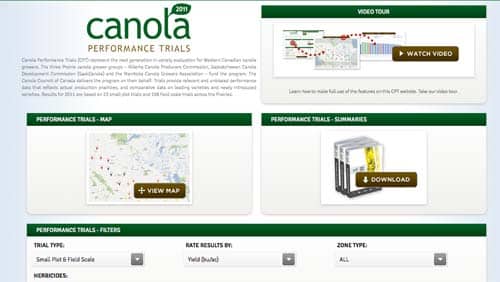 1. Compare varieties online at the Canola Performance Trials website.
2. See the full list of registered varieties. Click here for the CFIA database of all canola varieties currently registered.
3. Seed only registered varieties. Some older varieties that were once registered have been "deregistered." They have been removed from the market due to negative effects on export markets. If de-registered varieties are detected, canola shipments could be turned away causing millions of dollars in losses and placing future business with that country at risk. Growers could also face fines, and tracing it back is fairly easy. Click here for a list of de-registered varieties and why they were removed.
4. Farm saved canola seed is a poor choice – both legally and agronomically. Any canola seed with a herbicide tolerance (HT) system is protected under contract. Growers cannot legally use farm saved seed from these varieties and hybrids. As well, past research has shown that growing F2 (farm saved) seed from hybrids can lead to yield reductions that would far outweigh the reduced seed cost at today's canola prices, as compared to yields of crops grown from certified seed.
5. Keep a seed sample. Put a minimum 500 ml (2 cups) from each seed lot into a seed lab bag. Record seeding date and rate, and keep the blue seed tag. You could take a photo of seed tags with smart phone, and include the field name and location in the photo notes. Store samples in a cool, dry place in a rodent proof container. Taking a second sample as seed enters the ground will show what damage, if any, may have occurred as seed traveled through the drill. A sock taped to the end of a hose works as a simple sampling tool.