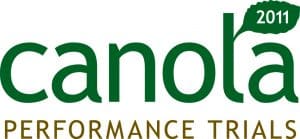 December 13, 2011 — Comparative data on canola seed varieties is now available to growers from the new Canola Performance Trials (CPT) 2011.
The CPT 2011 represents the next generation in variety evaluation for Western Canadian canola growers, providing science-based, unbiased and timely performance data that reflects actual production practices, as well as comparative data on leading varieties and newly introduced varieties.
The three Prairie canola grower groups — the Alberta Canola Producers Commission, the Saskatchewan Canola Development Commission (SaskCanola) and the Manitoba Canola Growers Association — fund the program. Seed trade companies that participated paid entry fees. The B.C. Grain Producers Association conducted trials in the Peace as their means of participation.
Participants in the small plot trials consisted of line companies, independent retailers and seed companies including Viterra, Bayer CropScience, Monsanto, Dow AgroSciences, Cargill, Canterra Seeds, BrettYoung Seeds, FP Genetics and SeCan. The CPT 2011 includes results from 23 small plots. Monsanto, Bayer CropScience, Canterra Seeds and Dow AgroSciences also participated in a total of 108 audited field scale trials.
Results are organized by short, medium and long season zones.
The results booklet is available now online at canolaperformancetrials.ca. The three Prairie grower groups will be posting it as well. In January, an online selection tool will be available at the same website, highlighting the contribution margin calculator. A printed booklet version of the results will be available shortly at Prairie ag retail outlets.
Haplotech (led by Dr. Rale Gjuric) coordinated the trials under the guidance of a governance committee that oversaw approval of varieties, protocol design, data collection, analysis and reporting, and financial management.
For comment contact:
Franck Groeneweg
Chair, Governance Committee
Tel:  306-699-2262
Cell:  306-699-7620
Technical questions:
Shawn Senko
CCC Agronomy Specialist
Cell: 306-270-9307
senkos@canolacouncil.org
Alberta Canola Producers Commission
Tel:   780-454-0844 
Toll free:  800-551-6652
Saskatchewan Canola Development Commission
Tel: 306-975-0262
Toll Free: 1-877-241-7044
Manitoba Canola Growers Association
Tel: (204)-982-2122