Crop planning. Recognize the value of diversity. The more growers do to vary their practices — including rotation of crops, pest control products, and varieties — the harder it will be for diseases, insects and weeds to adapt and increase. This can provide a long-term economic benefit.
Check bins and bags. Agronomy surveys show that only about half of growers check their canola bins on a regular basis. Temperature fluctuations experienced recently can lead to issues with condensation, and  warmer than normal average temperatures (see the map below) can slow the rate at which stored grain cools, both reducing stability of stored canola. See the graph below the map for one example of how daytime highs have fluctuated over the past 30 days. Data for this graph came from Alberta Agriculture's website. Don't forget about canola in bags that may be out in the field and out of sight. Aerate or move the grain if monitoring shows the rate of grain cooling is too slow to ensure safe storage.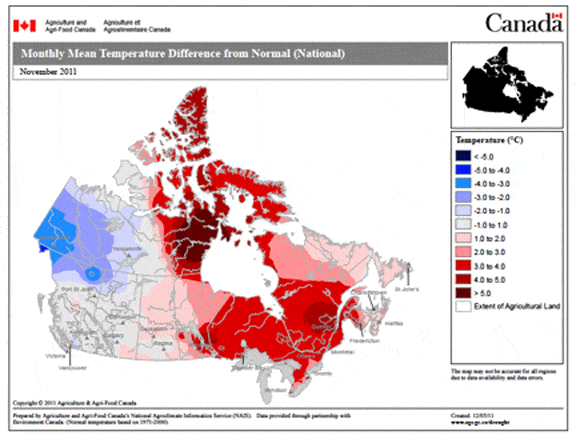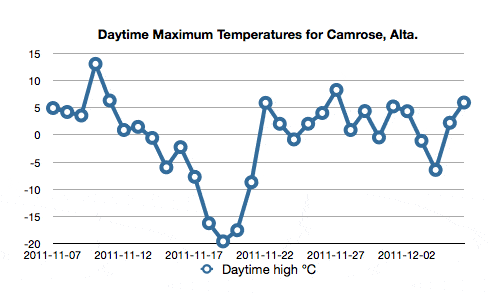 Canola Performance Trial results are coming soon. Booklets will be available at retailers this month and at canola association booths at the January farm shows. Data will also be available at this website, which is not activated yet: www.canolaperformancetrials.ca.
Canola Watch survey winners. Thank you to everyone who completed the Canola Watch survey. Winners of the draw are Wilf Pratt, Innisfail, Alta.; Joel Tschetter, Granum, Alta.; and Scott Barker, Wilkie, Sask. Your prize is on the way.
Remembering Denise Maurice. The CCC agronomy team dedicates this edition of Canola Watch to her memory.