Although very small, flea beetles are a common pest insect of canola in the Prairies that can cause serious damage to crops early in the season. So, there is huge value in finding, identifying and understanding flea beetles and how they relate to your crop establishment. Research on these topics has led to an interesting progression of developments and resulted in recommendations for best managing these insects.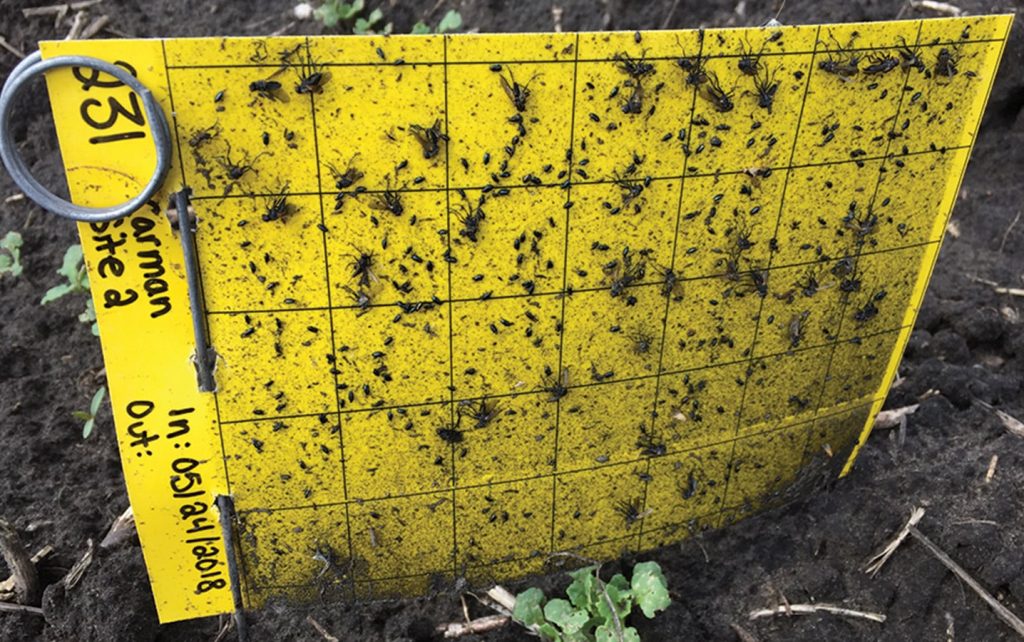 Fundamental flea beetle findings
The crucifer flea beetle Phyllotreta cruciferae (Goeze) and striped flea beetle P. striolata (Fab.) were the two most common flea beetles in Canadian canola fields, according to Soroka's three-year study 'Potential flea beetles species composition shift in Prairie canola' that began in 2009. A third species, the hop flea beetle Psylliodes punctulata Melsh., only occurred in low numbers across the Prairies. Interestingly, a shift in the range of occurrence across the Prairies was discovered from the study's survey results. Striped flea beetles were becoming more numerous in a wider area, including the Peace River region of British Columbia/Alberta, central Alberta, central Saskatchewan, and much of Manitoba.
Since these three flea beetle species are quite small (up to three millimetres in length) and jump when disturbed, an insect scouting guide can be helpful for correct identification and scouting tips to ensure differentiation from other pest or beneficial insects, along with understanding their life cycles.
Environmental impacts driving management
Soroka's three-year Mitigation of risk to canola from spring flea beetle injury study (which began in 2010), determined that striped flea beetles typically emerge first and were more active at lower temperatures than crucifer flea beetles; while crucifer flea beetles were more likely to emerge over a longer period.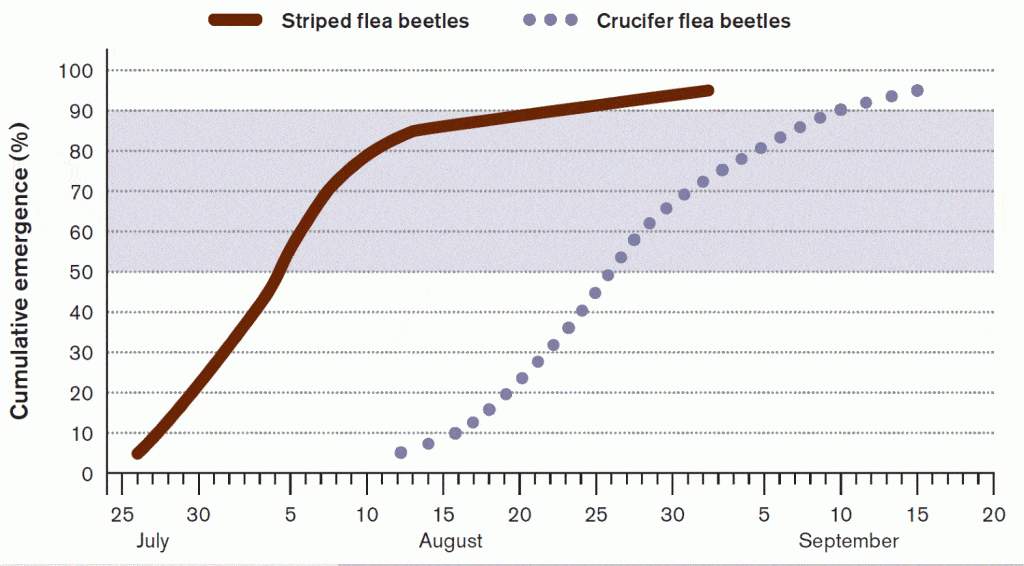 Olfert's research concluded similar results, specifying that striped flea beetles emerge two to three weeks earlier than crucifer ones. Interestingly, both species emerge one to five days sooner in early-seeded canola than in late-seeded canola. They also emerge earlier in years with above-average temperatures, compared to those with below-average temperatures. However, flea beetle damage to canola was lower in early-seeded plots (in this study) than in late-seeded ones and the early-seeded plots ended up yielding higher.
Building on these results, Costamagna found that a warmer April and May, a cooler and wetter June, and accelerated plant growth were all positively correlated with greater spring striped flea beetle populations. May temperatures likely had a greater impact since warmer temperature also encourages predatory beetle pressure. Similarly, warmer May temperatures were positively correlated with higher spring crucifer populations. However, more rainy days in May and June were positively correlated with spring crucifer flea beetle populations, although too much rain in June had a negative impact.
Temperature impacts on reaching thresholds
Damage by both species increased as the temperature increased, according to Soroka's research, with cotyledon feeding damage nearly doubling with each 5°C increase between 5°C to 25°C. The beetles could feed quite quickly, too. Two crucifer beetles on one seedling could exceed the damage threshold in five to six days at 20°C or in just three to four days at 25°C. Similarly, two striped flea beetles on one seedling could exceed the damage threshold in seven days at 20°C and within four to five days at 25°C. As a result, this study recommends that early season canola crops are scouted daily at warm temperatures (20 to 25°C) to remain below economic thresholds. To visualize the feeding damage progression, check out this graphic.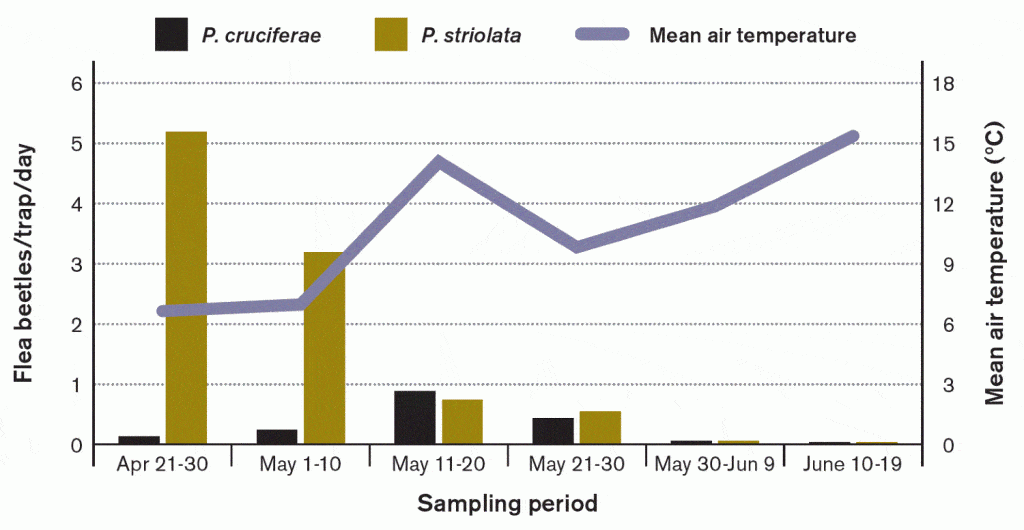 Crop protection management considerations
Unfortunately, Soroka's study also reported that neonicotinoid seed treatments were more effective on crucifer flea beetles than they were on striped flea beetles. In addition, Olfert found that neonicotinoid seed treatments provide limited benefit when flea beetle damage is low and growing season rainfall is above-average. Furthermore, Costamagna's research determined that neonicotinoid seed treatment produced the greatest yield in early-seeded trials. As well, foliar insecticide applications provided some yield protection as well, compared to the plots without applications.
To explain how all these findings impact flea beetle management recommendations for canola growers, listen to this podcast.
Recent flea beetle results
Additional conclusions from Costamagna's 'Integrated approaches for flea beetle control – economic thresholds, prediction models, landscape effects, and natural enemies' research that can be implemented by canola growers trying to manage flea beetles include:
Using a nominal economic threshold of 25 per cent is correct, to direct a spray decision.

Although percentage of defoliation generally increased with greater flea beetle numbers, the defoliation never exceeded the nominal threshold of 25 per cent. This could suggest seed treatments (in this study) gave adequate protection against flea beetles or that flea beetle abundance was not high enough to cause economic damage.

Implementing management strategies that increase insect predator populations, such as ground beetles, could help manage flea beetle populations in fields, as this study confirmed that two carabid (ground) beetles – Pterosticus melanarius and Amara torrida – eat flea beetles.
Understand that late season flea beetle populations can't be predicted based on spring populations for all flea beetle species, since this study found that striped beetle pressure in the spring did not mean they wouldn't be active in the summer. However, low crucifer pressure in the spring seemed to show low probability of crucifer populations in the summer.
While crop establishment is important, plant density recommendations to best manage flea beetles are not yet available. Though a negative interaction was found between the number of plants and the number of flea beetles present, in this study, which implies that varying plant densities would produce different amounts of defoliation for the same number of flea beetles.
Research in progress
Fortunately, a subsequent project that Costamagna is leading is investigating information gaps on integrated pest management strategies to improve the efficiency of seed treatments and improve methods to control flea beetles efficiently.
Other ongoing flea beetle research includes:
Find other completed flea beetle research on the Canola Research Hub.
Published May 28, 2021