After working hard to maximize crop potential, minimize environmental stressors and manage weeds, diseases and insect pests, harvest is the last in-field chance to maximize your canola yields. Though working within a short timing window, briefly stopping to check for and reduce harvest losses out the back of the combine can further improve profitability for the current crop and reduce weed management for the subsequent year. Some agronomists are also able to help with this effort to minimize time spent on this task to make this effort even more cost-effective.
While the testing process could be use when harvesting all crops, the relative small seed weight of canola compared to material other than grain (MOG) during threshing makes setting a combine for canola almost more necessary than large-seed crops, like corn.
On-farm survey suggests opportunity to increase yield
The 2019 On-Farm Survey of Combine Grain Loss in Canola Across Western Canada project reported that temperature, relative humidity, and weather conditions had a significant impact on the 1.3 bu/ac losses (2.8% of total yield) out the back of the combine. More specifically that lower temperatures (below 23.0°C), higher relative humidity (above 45%) and cloudy weather were associated with significantly higher combine losses.
The recommended resolution to minimize losses was by adjusting any combination of fan speed, rotor/cylinder speed, concave clearance sieve openings, and ground speed of the combine. To ensure each adjustment is effective, losses would need to be checked again (manually and/or with the yield loss monitor in the combine) after each change to determine its impact and potentially readjust again.
Study to investigate performance improvement options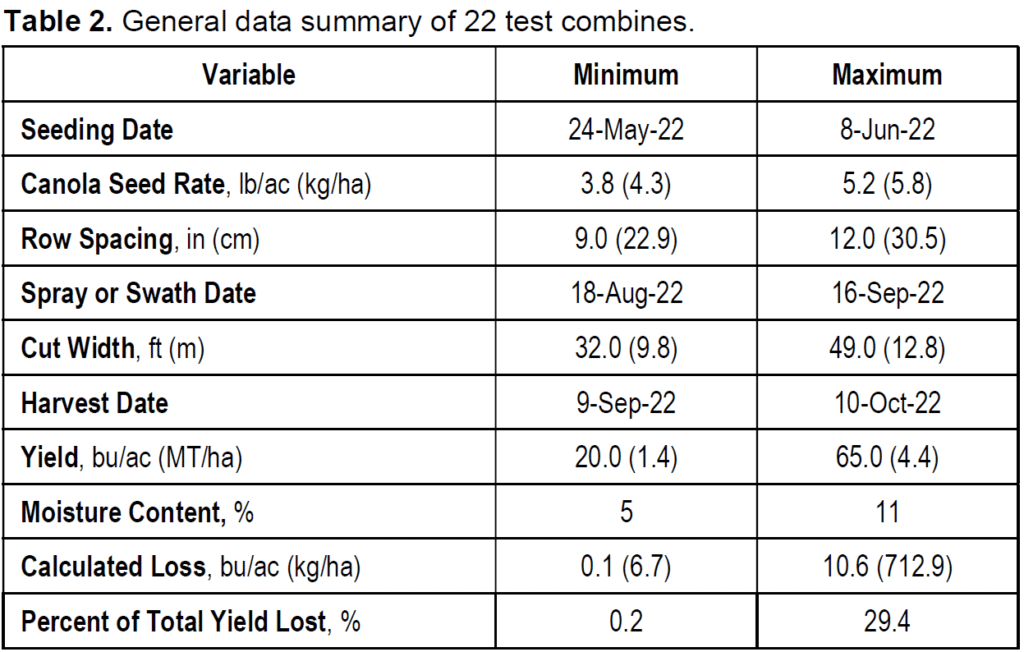 The 2022 Quantifying combine auto-adjusting capabilities in canola study further investigated this topic by examining the impact of changing weather conditions during a typical harvest day on combine losses and the performance potential of combines with auto-adjusting settings while harvesting canola.
In this study, combine losses from straight cut (14 fields) and swathed canola (8 fields) were measured for 22 combines (of 14 different models and four different makes: Case IH, Claas, John Deere, and New Holland) from 13 producers throughout Saskatchewan and Manitoba. Half of the combines had auto-adjusting capabilities and half were manual adjusting. Drop pans were used to take samples (3 repetitions) at three times throughout the day (without providing this data to famers during the testing). Weather conditions at the time of testing ranged between 6-27oC and the relative humidity ranged between 20-80%.
Impact of changing weather conditions on combine losses
Key results from this experiment included: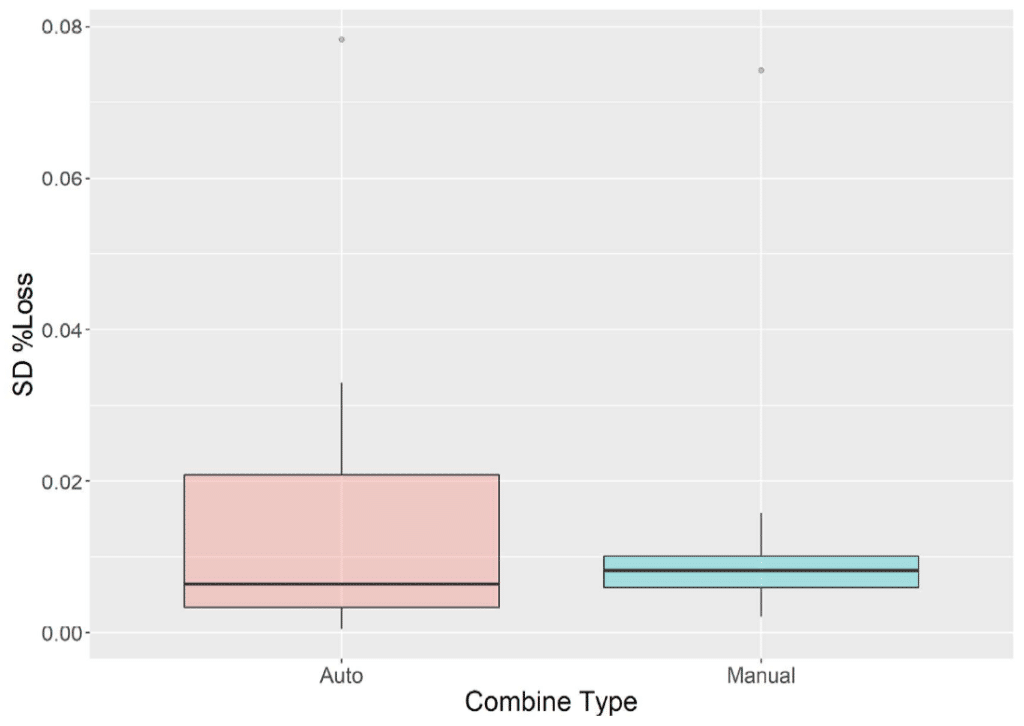 The average combine losses ranged from 0.1 bu/ac to 10.6 bu/ac or 0.1% to 10.6% of total yield loss.
As average daily temperatures increased, yield loss variation increased, significantly. But variation of temperature and humidity throughout the day (represented by standard deviation) did not.
There was no significant difference between swathed and straight cut operations or different ground speeds tested.
Calendar date (ranging from September 9 to October 10) did not have a significant impact on losses.
Interestingly, while there was no significant difference between losses in auto-adjusting and manual-adjusting capabilities, there was much less variation in the losses for the manual adjusting combine types than the auto-adjusting types.
This indicates that checking for losses is important and auto-adjusting combines still need calibration and monitoring to ensure that they are properly responding to changing conditions. Overall, you need to know what is happening to make informed management decisions and any method of checking for losses is better than not checking at all.
Read further details in the final report.
Proposed further research
A future phase for this research could be to complete a side-by-side analysis of manual adjusting, auto adjusting, and no adjusting (as a control) in the same field on the same day to compare variation in losses for the same ambient conditions.
For more related research, check out these harvest management studies on the Canola Research Hub.
Videos, calculators and tools to save time testing
To make testing for harvest losses out the back of the combine as efficient and effective as possible, check out these CCC resources: