Key Result
This project is still in progress, but aims to quantify the effect of seeding rates, hybrid maturity and harvest method on canola yields.
Project Summary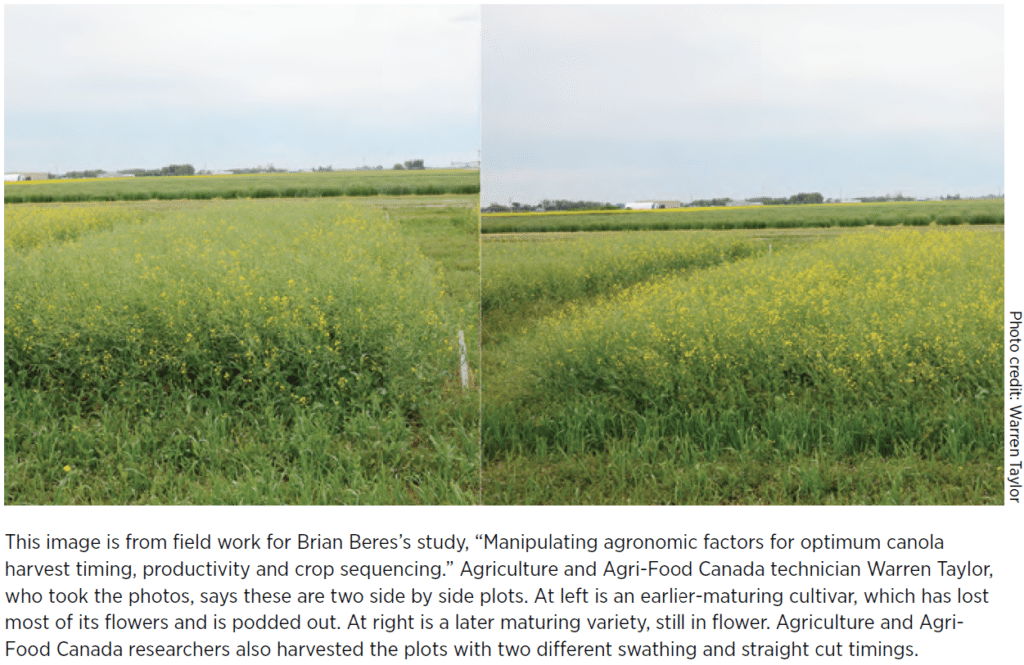 Purpose
Dr. Beres' research team is looking at the canola yield effect of seeding rates, hybrid maturity and harvest method.
Objectives
Understand how manipulations to seeding density, hybrid maturity rating and swath/straight-cut timing alter crop yield and quality.
Refine best practices in relation to the determination of optimal swath/straight-cut timing as plant density changes and as subsequent changes to canopy architecture, whole plant moisture, seed colour and moisture changes occur
Determine how the integration of seeding density, cultivar selection and harvest management system influence canola canopy architecture (pods and branches per plant and per unit area, for example).
Provide an economic analysis for low versus high seeding density systems, and straight-cut versus swathing scenarios.
Progress
The trial was suspended for the 2020 growing season, but results from 2018 and 2019 indicate a connection between a cultivar's maturity and its ideal harvest method. Based on these results, early- or medium-maturing hybrids could produce higher yields when straight combined while later-maturing hybrids could produce greater yield stability if swathed. The study used hybrids with the pod-shatter reduction trait and observed no seed losses, irrespective of harvest method.