Canola Meal Highlights From ADSA
July 2021
One of the most important events in the dairy calendar is the annual meeting of the American Dairy Science Association, where knowledge is exchanged between scientists and industry representatives who are committed to the support and advancement of the dairy industry.
The 2021 meeting was held from July 11 through July 14. Included in this years' event were presentations on the use of canola for dairy cows, including the feeding of the meal, forage and oil.
Poster P472 provided evidence that canola meal improves the methionine status of transition cows. Sebastian Arriola Apelo from the University of Wisconsin presented results from an early lactation study investigating the effects of level of protein (16% low (LP) vs 18% high (HP)) and source of protein (soybean meal (SBM) vs canola meal (CM)). In this trial, there was a large increase in milk production (4 kg/cow/day) with canola meal relative to soybean meal over the course of the 16 week study. Plasma methionine contents did not change with protein level of the diet. Diets with canola meal increased plasma methionine and may be a factor contributing to greater milk and milk protein output.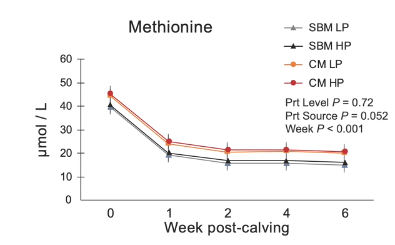 In addition to changes in plasma methionine, the above experiment, in which two protein concentrations, 16% low (LP) vs 18% high (HP)) and two protein sources (soybean meal (SBM) or canola meal (CM)) were tested in early lactation cows, plasma metabolites were also compared (Jordan Kuehnl and Kenneth Kalscheur, poster P267). There were no differences in plasma insulin levels due to diet. Thyroxine (T4) levels increased with dry matter intake, particularly in the cows on the low protein canola meal diet. Higher plasma thyroxine levels have been correlated with higher milk yield in short term studies.
Plasma metabolites were the subject of a follow up study by this group of researchers. In the graduate student composition poster SC148, Jordan Kuehnl from the University of Wisconsin evaluated the effects of diets containing either soybean meal or canola meal prepartum and postpartum in a 2X2 factorial designed feeding trial. Energy corrected milk production was increased by 1.6 kg with canola meal postpartum. Cows given canola meal in both the prepartum and postpartum period consumed 1 kg more dry matter than those given the soybean meal diet, and the greater intake prepartum is a major clue regarding the contribution of canola meal. Cows given canola meal prepartum tended to have higher blood glucose levels, however, there were no differences due to diet for insulin. Growth hormone concentrations were reduced when cows received canola meal. The researchers working on this project are determining how these metabolic events contribute to the greater milk output with canola meal.
Oleic acid, the main fatty acid in canola oil and the lipid component of canola meal, has been a subject of interest for researchers at Penn State University. Oleic acid is of interest, as it improves the absorption of lipids and lipid soluble nutrients in the intestine. Presentation 159, given by Dr. Kevin Harvatine, investigated the effects of adding oleic acid to the supplemental fat source provided to cows. Providing the fat supplement increased milk fat percentage, and milk fat yield compared to the control regardless of the amount of oleic acid included in the supplemental fat source. The control and test diets also contained 11.5% canola meal, which provided additional oleic acid to the diet. Although oleic acid is a mono-unsaturated fatty acid, this research demonstrated that oleic acid supports milk fat yield in lactating dairy cows.
One new area of research involves the utilization of canola forage. Presentation 489, presented by Einar Bello-Perez from the University of Copenhagen, provided a review of canola forage nutrient composition and digestibility at three stages of growth: vegetative, flowering, and pod. Alfalfa hay was used as the control and all forages were added at 30% of the diet. As is typical of forages, advanced growth resulted in reduced protein and elevated neutral detergent fiber. However, the oil content increased with the flowering and pod stages, resulting in similar energy values for the forage at all stages of growth. Fermentation gas reduction was reduced by 25% with canola forage relative to alfalfa and was consistent across growth stages. Canola forage based on this trial can be used to replace alfalfa, and may be key to reducing greenhouse gas production.
Presentation 319 presented by L.P.H. Silva from the University of New Hampshire investigated methane emissions in grazing Jersey cows consuming canola forage. The forage is attractive as a second crop, because it grows well in the fall season, providing quality grazing. Canola forage was used to replace baleage, and was provided at 40% of the dry matter in the experimental diets. As the table below indicates, the nutritive value of the canola forage exceeded that of the baleage.