Top Notch Farming. SaskCanola hosts the one-day meeting – with market outlook, agronomy, research, health and policy updates. There is one left: February 15 in Melfort. Information and registration
CropConnect 2023 – February 15-16, Victoria Inn and Convention Centre in Winnipeg. This includes the Manitoba Canola Growers AGM. Information and registration
Farming Smarter Conference & Trade Show – February 15-16, Lethbridge, Alberta. Information and registration
Learn to Lead Saskatchewan – Application deadline of February 21. Registration is very quick. Information and registration.
Canadian Crops Convention – March 7-9, Ottawa, Ontario. The Convention brings together the grain, oilseed, pulse and special crop value chains. The deadline to register is Thursday, February 23. Find more details on the 2023 Convention and register at www.canadiancrops.ca.
Soils and Crops Conference – March 7-8, Saskatoon, Saskatchewan. The annual workshop has updates on current research in the areas of soils, crops and economics. Presenters include researchers, faculty and graduate students from across Western Canada. Information and registration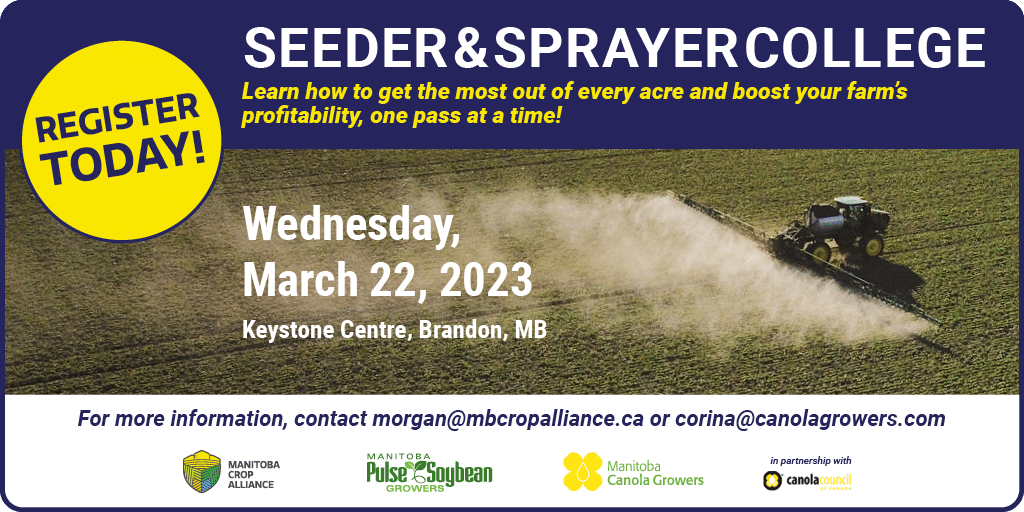 Seeder & Sprayer College – March 22, Brandon, Manitoba. Top-notch keynote speakers, nine breakout sessions, and an equipment and aftermarket showcase. Information and registration
Canola Watch 2022 exam – Five sections worth one CEU each for CCAs and CCSCs. Pass now for 2023 credits.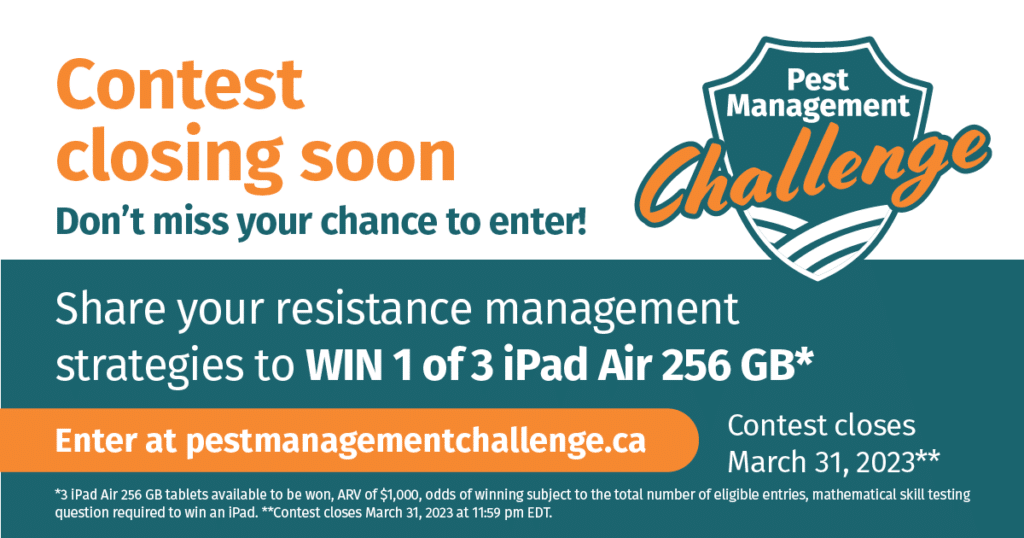 How do you outsmart resistance? Manage Resistance Now is asking Canadian crop growers to share their resistance management tips, tricks and success stories in a new online contest – Pest Management Challenge: How do you outsmart resistance on your farm? The contest closes March 31, 2023.
De-registered canola varieties. The Keep It Clean program has 5 simple tips to keep crops ready for market. Tip 5 includes a reminder to grow only registered canola varieties. Canola varieties on the "no-grow" list.
Canola Performance Trials 2022. The annual results booklet at canolaperformancetrials.ca contains small plot and field scale results for leading canola cultivars included in the 2022 trials. Results are based on 37 swathed small plot trials, 40 straight cut small plot trials and 68 straight cut field scale trials across the Prairies.