The 2019 Canola Discovery Forum (CDF) will take place at the RBC Convention Centre in Winnipeg, Manitoba on November 13-14. This event is a unique opportunity for consensus building and dialogue between all canola industry stakeholders. The theme this year is Integrated Pest Management (IPM).
REGISTRATION CLOSES on Wednesday, November 6. REGISTER NOW
Use this forum to provide your feedback on major opportunities and challenges facing the industry, learn about cutting-edge canola innovation that is helping to advance sustainable, profitable canola production, and have your say on the Canola Council of Canada's extension messaging and priorities for further research.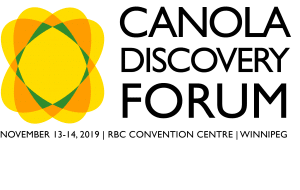 One of the panel discussions this year will include producers from across the Prairies to discuss how they measure the success of an IPM practice on their farm. They will also discuss what best management practices they incorporate and which practices they can't justify on their farms.
Panelists include:
Scott Keller, Alberta Farmer
Troy LaForge, Saskatchewan Farmer
Shane Friesen, Manitoba Farmer
Dana Maxwell, President and CEO, Ag-Quest
Moderator: Daryl Domitruk, Manitoba Pulse & Soybean Growers
Some other agenda highlights include research updates on:
–Patch Management for Clubroot Control: Mary Ruth McDonald, University of Guelph
–Genetic Resources for Integrated Pest Management: Dwayne Hegedus, AAFC Saskatoon
–Biotechnologies Role in Integrated Pest Management: Steven Whyard, University of Manitoba
On Friday, November 15, by invite only, CLUB Day will be taking place to address key topics within clubroot management and expand our understanding of this plant disease. The event will have five panel discussions with 10-15 experts per panel. Please refer to the updated program for further detail.
For more information on the program and registration, check out canoladiscoveryforum.ca.