Lygus. Scout lygus at late flowering and podding stages using a standard insect sweep net of 38 cm (15″) diameter. Take ten 180° sweeps, and aim to sweep the flowers and pods while moving forward. Count the number of lygus (including adults and nymphs with multiple dots on their back) in the net. Sampling is most accurate when repeated at a total of 15 spots within the field. Read more for scouting tips, thresholds and photos.
Researchers continue to study lygus in fields. If you spot lygus and want to volunteer a field for their research project, please contact AAFC research scientist Hector Carcamo, the project lead, by email at hector.carcamo@agr.gc.ca. Members of his research team are looking for lygus in Alberta and Saskatchewan near you.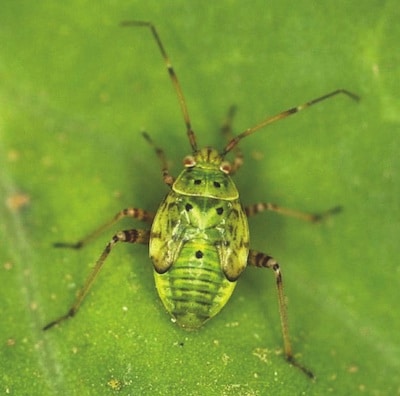 Bertha armyworm. Moth trapping has been extended for another week. Some hot spots with more than 900 adults in the traps have been found in Alberta and other areas have moved beyond 300, so growers in those are will want to watch for worms showing up over the next few weeks. Links for provincial trap-count updates are here. Adult trap counts are a risk assessment tool, but not all fields in a higher-risk area will have larvae numbers that reach economic thresholds and some fields in lower-risk areas could still have high larvae pressure. Scouting is still required. Base a spray decision on economic threshold tables. Remember, a few bertha armyworm larvae can be helpful and important; they serve as hosts that attract and retain natural enemies, especially predatory insects but also viral, bacterial and fungal diseases that attack berthas. Scout and spray as needed, but applying the economic threshold helps growers support these important interactions.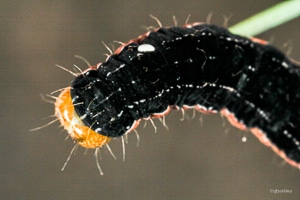 Grasshoppers. Populations were getting high in some fields, then the rains came. Rapid crop growth that results from rain should reduce the economic risk from grasshoppers. Rain also tends to predispose grasshoppers to fungal, bacterial and viral infections. Nymphs can also be knocked off plants and drown in puddles. With steady rains and continued moist environments, these natural population control measures should start to take effect. Scouting tips.
Alfalfa loopers. The green worms, which can be confused with bertha armyworm, have been found in some canola fields. Infestations are not common and no threshold has been set for alfalfa looper. If an infestation occurs, assess the damage and delay spraying as long as possible to allow diseases an opportunity to control the pest. Read more.
Root maggots. Plants showing signs of premature ripening may have a root maggot problem. If the taproot breaks off slightly below the soil surface, root maggots could be the cause. Look for tunneling inside the root crown or for maggots themselves. Also consider various other potential underground causes for premature ripening: clubroot, root rot or soil moisture situations that may reduce nutrient uptake. If the plant is girdled at or slightly above the soil surface, and taproots are not tunneled by root maggots, then a disease is more likely. If root maggots are causing abundant amounts of damage, no insecticides are registered or provide an economic benefit. Maggot damage is often higher with low plant populations and with canola on canola.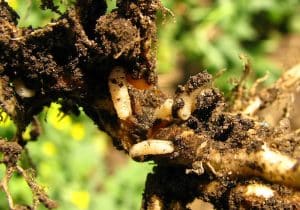 Further reading