The Southern Alberta Clubroot Response Workshop, held in Indus on January 7, was organized by the local the CCC agronomy specialist and Alberta Canola after clubroot was found in the area for the first time in 2018. The 200 attendees were a mix of industry, municipality staff/representatives and growers.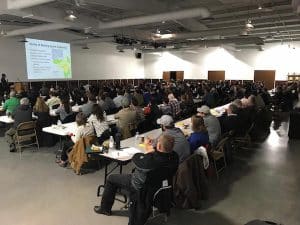 At the workshop, attendees were urged to think about actions they can take to reduce the impact of clubroot on their farms, businesses and communities. These actions includes crop rotations, sanitation, resistant varieties, reduced tillage and scouting.
The day started with a showing of the clubroot video, included discussions of current research, and ended with a panel of experts who answered questions from the engaged crowd.
As clubroot is found outside of traditional clubroot areas, the need for credible, evidence-based data and knowledge around this pathogen increases. The workshop included experiences from a grower (Alberta Canola director John Guelly), two municipal representatives who regulate clubroot, science from researchers, and others, including CCC agronomy specialist and clubroot lead Dan Orchard. The entire network of clubroot expertise was present in the room, and the discussions in Indus were productive and valuable.
Key points
Clubroot is a complex problem. Here is a simplified breakdown of the important points.
Keep spores low.
–Use crop rotation. (≥2 years between canola crops)
–Control host weeds.
–Find it early.
–Use clubroot resistant varieties. List of CR varieties Grow CR varieties as soon as clubroot is found in the area
Keep spores local
–Use sanitation. Commit to a realistic sanitation policy on your farm or in your business that will help minimize soil movement (link to field entry policy)
–Reduce tillage. Zero-till or minimum-till practices minimize wind and water erosion, which can move soil particles (and clubroot spores) to other fields.
–Manage patches. How to contain a clubroot-infested patch
Use a field entry strategy
Further reading:
New CCC brochure: "All About Clubroot"
10 ways that clubroot can spread
Create a clubroot farm plan. Find a link to Saskatchewan's farm plan here