Have you registered for the CCC's 51st annual convention, taking place March 6-8 in Palm Springs? If not, act quickly as the deadline to book a room at the hotel is this Friday, February 9.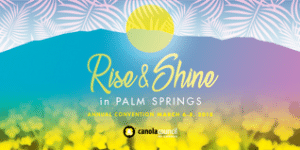 The convention is a dedicated time for the entire canola value chain to be together in one place to connect, learn and advance Canada's greatest agricultural success story – canola. The convention includes two days of thought-provoking speakers that cover topics like climate change, food trends, opportunities for Canada's agri-food industry and resilience. One of this year's featured speakers is the Honourable Rona Ambrose, who will be talking about current affairs and trade.
The convention is planned to maximize networking value for delegates and as such, includes networking breaks and lunches, speaker's corner opportunities and evening events so that everyone can make the most of their time. More info on the program, speakers, partner and evening events is available on the convention website.