The Canola Council of Canada agronomy team held a mini canoLAB at the Alberta Canola booth during FarmTech in Edmonton last week. Three common conversation topics came up as farmers and agronomists visited the booth:
Clubroot and pH. Canola grown in lower pH soil inoculated with clubroot spores produced galls, but canola grown in soil with pH of 7.3 or so did not produce galls. While clubroot can form in soils with higher pH, this does demonstrate how amending clubroot-infested soil to increase pH encourages healthy soil, possibly reducing the severity of the disease. Read more. Listen to new Canola Watch podcast on clubroot management.
White-flowered canola. The plant at FarmTech was from Habibur Rahman's breeding program at the University of Alberta, and it had a gene for white flowers. Rahman's breeding efforts at the University are to increase yield in hybrids. In Europe, there has been research to explore different coloured canola (white, blue and red) to test pest mitigation, but so far there hasn't been substantial success showing its effectiveness. If growers see white or white-ish flowers in a field, it could be due to herbicide damage, including mis-timed glyphosate on Roundup Ready canola. Pale flowers can also result from sulphur deficiency.
Manganese toxicity. This is not common but was seen a few times in 2017 across Alberta. High moisture areas were a more common factor in this micronutrient toxicity, but it was seen in Southern Alberta as well. An acidic pH (4-6) was consistent among the soils that developed a Mn toxicity. This lab-induced manganese toxicity – resulting from too much available manganese – created some severely stunted and pale yellow plants with cupped leaves. It looked like herbicide carryover damage, and served as a reminder that familiar symptoms may not be what you think. Good diagnostics, just like good police detective work, means not jumping to conclusions. Read more.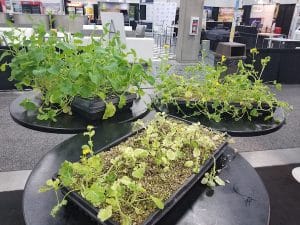 Across the room…at the Insectarium. At their own booth, entomologists from Agriculture and Agri-Food Canada had their "Insectarium". It had live plants and live insects, giving farmers a chance to identify bertha armyworm, diamondback moth and aphids as well as their feeding patterns. Cages of beneficials gave the entomologists a chance to talk about the new "Field Heroes" website with information on valuable predators and parasitoids of cutworms, bertha armyworm, diamondback moth and more.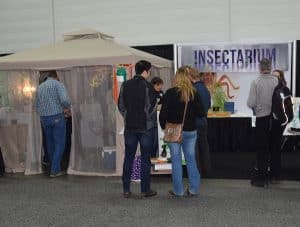 Want to attend a canoLAB?
Saskatchewan canoLAB is February 21 and 22 in Saskatoon. Information and registration.
Manitoba canoLAB is March 14 in Brandon and March 15 in Dauphin. Information and registration.