The Canola Council of Canada's 51st annual convention in Palm Springs, March 6-8, is a dedicated time for the entire canola value chain to be together in one place to connect, learn and advance Canada's greatest agricultural success story – canola.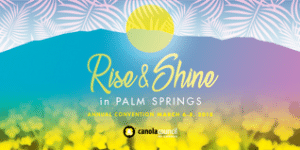 The convention includes two days of thought-provoking speakers and this year, there's a special segment of speakers focused on climate change. They include UCLA climate scientist Dr. Laurence Smith looking at what global trends mean for climate change into the future; Dr. Dave Sauchyn – a professor of geography and environmental studies in Regina looking at what climate change means for agriculture on the Canadian Prairies; and a special panel on climate change obligations and opportunities, featuring Paul Wenger, a grower and past president of the California Farm Bureau; Catherine Abreu, executive director of Climate Action Network Canada providing perspective on citizen/voter needs for public policy; and Murray McCaig,founder and managing partner of ArcTern Ventures who will provide a business perspective on bringing clean technology to life. Read more about these speakers and the rest of the exciting line-up on the program agenda.
The convention is planned to maximize networking value for delegates and as such, includes networking breaks, speaker's corner opportunities and evening events so that everyone can make the most of their time.
More info on the program, speakers, partner and evening events is available on the convention website. We highly recommend you register soon and book your hotel room, as Greater Palm Springs is booking up quickly over the conference dates.