canoLAB 2017 locations and dates are:
Queensbury Convention Centre, Regina, Saskatchewan, February 15-16. Registration and information.
Lakeland College, Vermilion, Alberta, February 22-23. Registration and information.
Dauphin, Manitoba, March 15-16. Registration and information.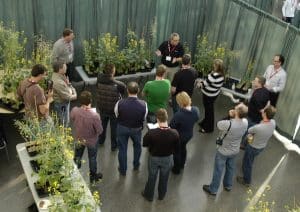 What is canoLAB?
The first canoLAB, like many events, was affectionately named by Rick Taillieu from Alberta Canola, and became the brainchild of Dan Orchard, Canola Council of Canada agronomy specialist from Central Alberta. You may know Dan from various agronomy/extension events or as the founder of clubroot in Alberta. He was one of the unfortunate first agronomists to find clubroot in the province. Back then Dan was working at an ag retail in central Alberta he was plotting ways to teach about different diagnostics and plant injury symptoms.
Fast forward a few years and Dan was working as an agronomist for the Canola Council of Canada. Still excited about the prospect of a live plant workshop in the winter, he stopped by the University of Alberta in the winter of 2011-12 where he met their new greenhouse manager, Sherrie Benson. They chatted about availability of greenhouse space and how to go about growing canola plants indoors for a team training event. It didn't take long for Dan, Sherrie and a larger crew of CCC and Alberta Canola staff to realize the potential of this workshop on a larger scale.
That first year involved a lot of greenhouse time for Dan, Troy Prosofsky (former CCC agronomist) and Greg Sekulic, learning the ins and outs of growing canola in a greenhouse. As the winter progressed, ideas kept evolving and the quantity of plant material grew. The first canoLAB was held for over 200 people at Hole's Greenhouse in Edmonton and it was a huge success, with many thanks to the amazing line-up of speakers, a canoLAB tradition.
Because of the continuous innovation in canola and new research findings to demonstrate, canoLAB has evolved, with sessions illustrating issues with nutrients, diseases, insects, weeds, stand establishment and more. The humble workshop that started one year in Edmonton has been held at various locations across Alberta, Saskatchewan and Manitoba. This year will be canoLAB's 6th year in Alberta and it will be hosted at Lakeland College in Vermilion. This is year 5 for both Saskatchewan and Manitoba, with their events being held in Regina and Dauphin.
While the scope of the event has changed, the purpose remains the same: to deliver hands-on canola agronomy training to agronomists and farmers in the break between growing seasons. In addition to the live plants, we get the best speakers and presenters in Canada to help plan and teach these unique, interactive sessions to small groups. Attendees continually come back year after year and comment on the value of these workshops at a time when they are not normally looking at live plants, insects and other agronomy issues.