Just as the Canadian athletes represent Canada at the Olympic Games, grain produced by Canadian farmers goes on to represent Canada to our customers around the world. Canada is known for producing consistently high-quality canola seed, oil and meal and you can help ensure Canada maintains this reputation by following these simple tips to ensure your canola is export ready: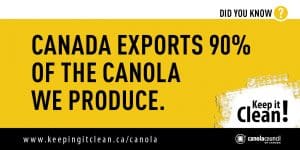 USE ACCEPTABLE PESTICIDES ONLY
Only apply pesticides that are registered for use on canola in Canada and won't create trade concerns. Registration of a pesticide doesn't guarantee that it is acceptable to export customers. One challenge is that registration can pre-date the establishment of maximum residue limits (MRLs) in major export markets, and in some cases this can create a market risk. Talk with your grain buyer before you spray to ensure the pesticides you're using are acceptable to your customers.
To learn more about Crop Protection Products and International Markets, including export requirements, roles throughout the value chain and responsible commercialization, read this brochure
USE PESTICIDES CORRECTLY
Follow the correct rates and timing listed on the label. Stick to the pre‑harvest interval (PHI), since applying the product too close to harvest may result in higher than accepted residue levels in the seed. The PHI (or Spray to Swath Interval) is the number of days that must pass between the last application of a pesticide and swathing or straight combining. Check out www.spraytoswath.ca for more info.
    3. CONTROL BLACKLEG
Scout canola fields regularly for blackleg symptoms and prevalence to help determine the effectiveness of your blackleg management plan.
Control volunteer canola and other Brassica weeds (stinkweed, shepherd's purse, wild mustard, flixweed) to prevent blackleg build up during non-canola years
STORE CANOLA PROPERLY
Make sure your storage bins are free of treated seed (which contains pesticides) and animal protein like blood meal and bone meal.
Clean bins thoroughly prior to storing canola.
Never use Malathion to prepare canola for storage or to treat bins used to store canola. Its residue can linger for up to six months, so choose your canola storage bin carefully.
Keep canola cool and dry to avoid spoilage and insect issues.
Learn more about how to Keep it Clean and watch a couple quick and informative CCC videos at: http://www.canolacouncil.org/crop-production/keep-it-clean/
Since over 90% of Canadian canola is exported, your canola may end up in 1 of 55 different canola markets around the world. To learn more about which countries buy canola seed, oil and meal, check here (http://www.canolacouncil.org/markets-stats/statistics/).