While scouting canola fields at flowering and podding stages, dig up a few plants in each field and look at the crown and primary root. If the crop has disease symptoms, compare healthy and unhealthy plants. Even if the crop has no outward symptoms, dig up a few plants anyway. Early infection may be present even if the plant shows no above-ground symptoms. You can do little about any of these diseases at this point, but this information will help with identification while scouting and will improve management decisions for following years.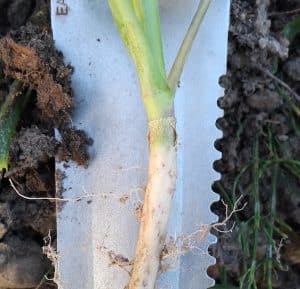 Clubroot galls. Look at fields with resistant and susceptible varieties. Clubroot resistant varieties can have galls, especially if the field has a clubroot strain for which the genetic trait provides limited protection.
Root rots. These can pinch off or "girdle" plants at or just below ground level. Look for smooth clear rotting that is soft and squishy. Note that blackleg can also cause girdling but the rot is dry. Canola varieties are not known to have any genetic differences in root rot resistance, so root rot is unlikely to show a distinct difference in infection rates when two varieties happen to be grown side by side. Photos and more.
Blackleg. Look for dry rot that gives stems a woody and rough look. Some stem girdling and breaking can occur, but rot will be dry. Early blackleg infection can start to blacken the crown cross-section even at an early crop stage, and any blackening of the stem at this crop stage will often lead to dead or near-dead plants at maturity. Blackleg infection this severe probably started with leaf lesions at the cotyledon or first-leaf stages. These leaves are now gone, leaving no evidence of this early leaf infection. In cases where blackleg is this severe, infected pieces of old canola stubble are likely present in the field. Look for black spots of pseudothecia on old stubble pieces. Given the genetic differences in resistance from variety to variety, a distinct difference in infection rate could be evident when two varieties are grown in the same field. More on blackleg.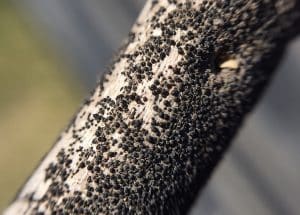 Root maggots. While digging up roots, look for root maggots. Damage from root maggots can provide an entry point for foot rot/root rot pathogens, so both may be evident. L. maculans, the fungal pathogen that causes blackleg, does not infect through the root in Canada. Therefore existing below-ground damage will not increase the risk of blackleg infection.