The Canola Council of Canada's Crop Production & Innovation team is here to help answer your canola agronomy questions. Here are the 11 agronomy specialists with their territories, areas of specialty and contact information.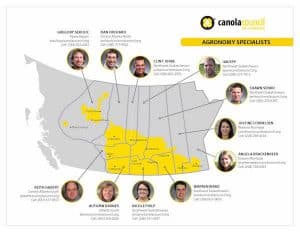 Click here for a full-sized map.

Clint Jurke
Northwest Saskatchewan/Northeast Alberta
Specialty: Agronomy director
jurkec@canolacouncil.org
306-821-2935
Twitter: @JurkeCCC
Gregory Sekulic
Peace (Alberta and B.C.)
Specialty: Sustainability, pollinators and beneficials, machinery, blackleg, stand establishment
sekulicg@canolacouncil.org
780-832-2382
Twitter: @SekulicCCC
Dan Orchard
Central Alberta North
Specialty: Clubroot, crop tours, weeds, fertility
orchardd@canolacouncil.org
780-777-9923
@OrchardCCC
Keith Gabert
Central Alberta South
Specialty: Insect pests, sclerotinia stem rot, canoLAB, fertility, weeds, genetics and seed
gabertk@canolacouncil.org
587-377-0557
@GabertCCC
Autumn Barnes
Alberta South
Specialties: Stand establishment, canoLAB, genetics and seed, insect pests
barnesa@canolacouncil.org
403-360-0206
@BarnesCCC
Ian Epp
Northwest Saskatchewan
Specialty: Weeds, Ultimate Canola Challenge, pollinators and beneficials
eppi@canolacouncil.org
306-371-7913
@EppCCC
Shawn Senko
Northeast Saskatchewan
Specialty: Machinery, precision agriculture, Canola Performance Trials, canoLAB, harvest and storage
senkos@canolacouncil.org
306-270-9307
@SenkoCCC
Warren Ward
Southeast Saskatchewan
Specialty: Fertility, Canola Performance Trials, new diseases, economics
wardw@canolacouncil.org
306-621-0630
@WardCCC
Nicole Philp
Southwest Saskatchewan
Specialty: Ultimate Canola Challenge, genetics and seed, insect pests, precision agriculture, resistance management
philpn@canolacouncil.org
306-551-4597
@PhilpCCC
Justine Cornelsen
Western Manitoba
Specialties: Blackleg, stand establishment, sustainability, insect pests
cornelsenj@canolacouncil.org
204-298-4364
@CornelsenCCC
Angela Brackenreed
Eastern Manitoba
Specialty: Harvest and storage, economics, canoLAB, weeds, machinery
brackenreeda@canolacouncil.org
204-720-6923
@BrackenreedCCC
Choose your territory…
In 2015, Canola Watch started sending issues out by province. In time, we will — when necessary — send reports and alerts to specific territories. To do this effectively, we need all readers to update their free Canola Watch subscriptions to select the region that best suits their location. To do this takes four steps and about two minutes.
1. Go to www.canolawatch.org and click "Sign up" at the top right. Direct link.
2. Enter your information and click "Sign up" again. If you are already subscribed, you will get an error message asking you to "click here to update your profile." Click the link.
3. This will trigger an email to you. Once that email arrives, click the "Update your preferences" link.
4. That takes you to the update page. Confirm that the information is correct (as you entered in step 2), including "What region best represents your location". Make any corrections required. Then click "Update profile".