The Canola Council of Canada, Alberta Canola Producers Commission and Agriculture and Agri-Food Canada (AAFC) presented the first ever canolaPALOOZA at AAFC Lacombe this week. The event featured lots of hands on agronomy, leading experts and fun — including a dunk tank, slap shot contest, and food trucks. Our top 10 list includes just a sample of the agronomy messages growers and agronomists heard during the day. Search #canolapalooza on Twitter for more comments and images.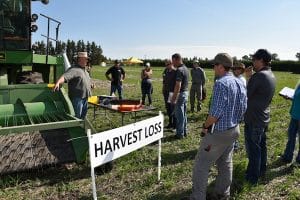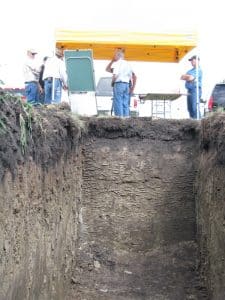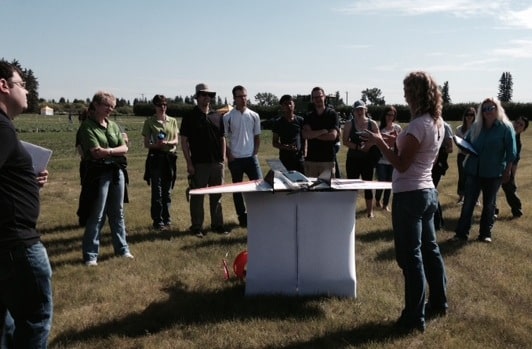 1. Cabbage seedpod weevil do their damage by laying eggs in pods. Larvae from these eggs feed on canola seed, reducing yield. Weevils cannot lay eggs in pods until pods are around 3/4" long, so the recommended spray window is at 15-20% flower when first pods are just reaching that size. The threshold is 20 weevils per 10 sweep net sweeps.   
2. Never assume anything when diagnosing problems in the field. When scouting, look for clues about seed depth, residue management, seeding speed, spray tank residue issues, etc., that could lead to crop management improvements.
3. Early weed removal is key. If you need to use a coarse nozzle because it's been too windy for a fine spray, use the coarse nozzle. Early timing is better than complete coverage, but use recommended water rates.
4. Top dressing can be an effective way to fix nitrogen and sulphur deficiencies. Earlier is better, but a sulphur top dress in a deficiency situation can provide a yield benefit even when applied at early flowering. More.
5. When it comes to sclerotinia and the need to spray … consider yield potential as well as the moisture situation before and during flowering. Good yield potential and continued moist or humid conditions will likely provide a return on a fungicide spray. Apothecia, the little mushrooms that release the spores, need moist soil conditions about two weeks before flowering. Then it also has to be moist and humid around flowering to create conditions for infection. More.
6. Soil sample at three depths — 0-6", 6-12" and 12-24". Don't underestimate soil variability within a field and how it alone will influence yield variability.
7. Assess seed weight and estimated seed survival when setting seeding rates. Sometimes when you have a thinner than expected stand, it comes down to simply not having enough seed in the ground. Mathematics.
8. Check for harvest losses using a catch pan. Two to three bushels per acre can look like nothing when scanning the ground for dark canola seeds, but making combine adjustments to put more of that seed in the tank can make a big difference to profit margins.
9. The Ultimate Canola Challenge is in its third year, testing various new products to see if they improve on results from proven practices. Follow UCC plot updates here.
10. On drones: With a small quad copter the uses are restricted to visual diagnostics such as drift patterns, seeding misses, etc. Fixed wing drones and larger copters (hexa or octa with the ability to carry a camera) can be used to capture infrared images and the corresponding NDVI. This can be translated into a full field photo from which fertility, herbicide and other variable rate recommendations can be made. Also, no matter what type of drone is being used, ground truthing (checking the field to verify the images captured with the drone) still needs to occur prior to making a recommendation. 
Below are a couple photos from peacePALOOZA, June 25 at AAFC Beaverlodge.