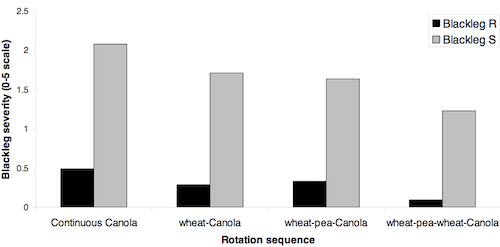 Rotation between canola crops has known benefits for management of blackleg, clubroot and root maggot and an overall improvement in canola yield. A one-year break between canola crops provides a clear yield advantage over back to back canola, according to crop insurance data. A two-year break improves on blackleg management when compared to a one-year break. (The graph above is from a Randy Kutcher AAFC study featured here.) A longer break is also better for clubroot, however rotation alone is not a practical way to manage clubroot once it has arrived on a farm. Crop rotation as well as using a clubroot resistant variety, limiting soil movement and controlling clubroot-host weeds are all required. (Read more about clubroot varieties and rotation here.)
Pulses in the rotation. The Canola Digest Science Special, released in November 2013, highlighted 31 recently completed canola research studies, including one by AAFC researcher John O'Donovan comparing peas, lentils and fababeans in a rotation with canola and cereals. The study found that legumes can provide a valuable alternative to inorganic nitrogen, and increase canola yield compared to canola on wheat or canola on canola stubble. Read the O'Donovan Science Edition article.
Rotation and weed management. AAFC's Neil Harker did a study, also featured in the Science Special, that showed how fall-seeded crops, silage crops and perennial crops in the rotation can contribute greatly to wild oat management. Rotations in this study provided a level of control that could reduce or eliminate the need for herbicides on wild oats, which is good news for fields with high populations of herbicide-resistant wild oats. Read the Harker Science Edition article.
Flax and canola. Canola does not provide a very good bridge for beneficial soil mycorrhizal fungi. This can have a negative effect on flax specifically, and possibly corn — two crops that use these fungi. Growers with flax and corn in a rotation with canola may see better results by growing these crops ahead of canola, instead of the other way around. This sequence also reduces the level of volunteer canola in corn. This is addressed in more detail in the Canola Encyclopedia chapter on cropping sequence.
Canola and soybeans. Volunteer canola is also a problem weed in soybeans, which are almost entirely Roundup Ready in western Canada. Growers with soybeans and canola and corn, which is becoming a more common rotation in Manitoba in particular, may have a sequencing challenge when it comes to volunteer canola management. Corn-canola- soybeans may be the better sequencing choice, with care taken to ensure not all crops are Roundup Ready, and with a good program of pre-seed weed control.
Canola residue effects. A number of older studies have looked into natural toxins in canola residue and their effect on following crops. It is not necessarily a bad thing, as some natural toxins in canola residue have actually shown to reduce root rots in wheat, for example. This is also addressed in the Canola Encyclopedia chapter on cropping sequence.