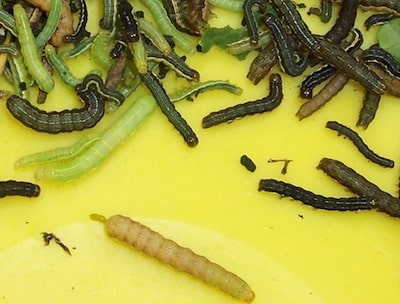 Insect scouting is the top priority as canola moves out of flowering and into podding. Protection from insects, using economic thresholds, is most important at this stage as canola no longer has the capacity to compensate for losses. The photo above shows the various colours of bertha armyworm.
While scouting for insects, take a look at plants for early signs of blackleg, clubroot and sclerotinia stem rot. Nothing can be done to mitigate losses at this stage, but identifying which diseases are present is relatively easy between now and harvest. Scouting now provides the opportunity — if diseases are present — to modify management plans in subsequent years.
If you start to see problems show up, be wary of product claims such as, "If you had sprayed our product in June you wouldn't be seeing that right now." Get a few opinions, if necessary, to accurately identify problems. Try the Canola Diagnostic Tool at www.canoladiagnostictool.ca. Keep notes. And prepare to use proven remedies next year.
A few noteworthy events are coming up: Disease Scouting Clinic in Portage la Prairie, Manitoba July 30; Crop Diagnostic School in Indian Head, Saskatchewan July 30-31; and the Clubroot Galla in Brooks, Alberta July 31-August 1.
Follow @CanolaWatch on Twitter. Here's the canola tweet of the week: