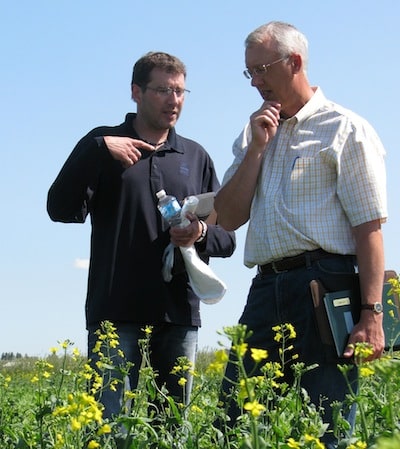 CCC agronomy specialists have a new project for 2013 — the Ultimate Canola Challenge (UCC). The underlying challenge is to follow all best management practices (BMPs) to see how canola yields when you "do everything right." This will be repeated at a number of sites in Alberta, Saskatchewan and Manitoba.
Alberta and Saskatchewan UCCs are designed with basically the same structure at a number of sites. Each site will have a 'check' with BMPs determined by CCC agronomists, Neil Harker, Murray Hartman, Scott Meers and others. Along with the check, additional treatments — such as boron — will be evaluated to see if they provide an improvement in yield, quality, maturity and return on investment. If UCC results uncover something extra or new that seems to work, it could lead to future research projects.
Manitoba has a slightly different take on the UCC, with three teams testing their own combination of inputs and practices to see which can achieve the top canola result. Teams will compete side by side at one location. Team CROP is led by the local grower group. Team MAFRI is led by our provincial oilseed specialist Anastasia Kubinec. Team CCA  is the agronomists team led by Curtis Cavers of AAFC.
UCC trial locations will host various tours over the summer. Stay tuned for dates. Canola Watch will provide regular updates throughout the season.